Fine Art Photo Prints - Picture choice

Bamberg Bayreuth Franconia Franconian Switzerland Hohenlohe Nuremberg Rothenburg ob der Tauber Würzburg
Hohenlohe Franconia
Hohenlohe is a region in the northeast of Baden-Württemberg in Germany. Under Hohenlohe is today the Franconian language area, around the rivers Jagst Kocher and Tauber understood that the Hohenlohekreis, the east adjoining district of Schwäbisch Hall and the southern part of the Main-Tauber-Kreis (Former district Mergentheim) is almost identical. Even former possessions of the House of Hohenlohe in neighboring Bavaria today as Schillingsfürst, Baldersheim and Uffenheim are sometimes included as well. Originally Hohenlohe was a dynastic concept and name of the county or later the Principality the still existing house Hohenlohe, which comprised a large part of today's landscape. After 1806, most of their realm was forcibly incorporated into the Kingdom of Württemberg, lived Hohenlohe henceforth as geographical concept further, as in the naming of the Hohenloher level. The adjective "Hohenlohisch dialect" refers to the local dialect next specially belonging to the house of Hohenlohe, while "Hohenlohe" is used for the landscape and its inhabitants: in the Hohenlohe plain part of it live Hohenlohisch dialect speaking Hohenlohe, in formerly Hohenlohe cities, their old office houses Hohenlohe crest bear.
---
Franconia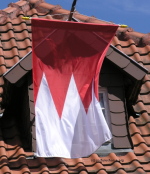 The Langenburg Castle was the residence of the family of Hohenlohe-Langenburg, who still inhabited today. It is located in Langenburg district Schwäbisch Hall in Baden-Württemberg on a mountain ridge high above the Jagsttal.

Schloss Stetten is the official place name of the ancestral castle of the Barons of Stetten and the adjoining hamlet. It is now a part of the county town Künzelsau in Hohenlohe district, in Baden-Württemberg. The castle is a shield wall castle, it is one of the best preserved castles of the Staufer period. The plant is today owned and inhabited by the builder family.

The Krautheim castle was built in 1213 by Wolfram I. Krautheim on a mountain spur over Krautheim in Hohenlohe district, in Baden-Württemberg. Today, the sprawling complex the dungeon, surrounding walls, parts of the palace and a high Gothic chapel with stately gallery received. After changing rulers, the plant is now owned by the State of Baden-Württemberg.
St. George's
Day of the Teutonic Order on 23.4.2022